Great winemaker Jonathan Maltus is the first Englishman in Bordeaux to win a perfect score of 100 points from the influential critic Robert Parker. Jonathan came to prominence during the "cult" (or called as "garage") movement of Saint-Émilion during the 1990's. His success has been built upon an ambitious, exciting, innovative and technologically advanced approach whilst strictly maintaining the vineyards' "terroir". Merci Magazine was honoured to be one of the participants to attend the Winemaker Dinner and taste his wines.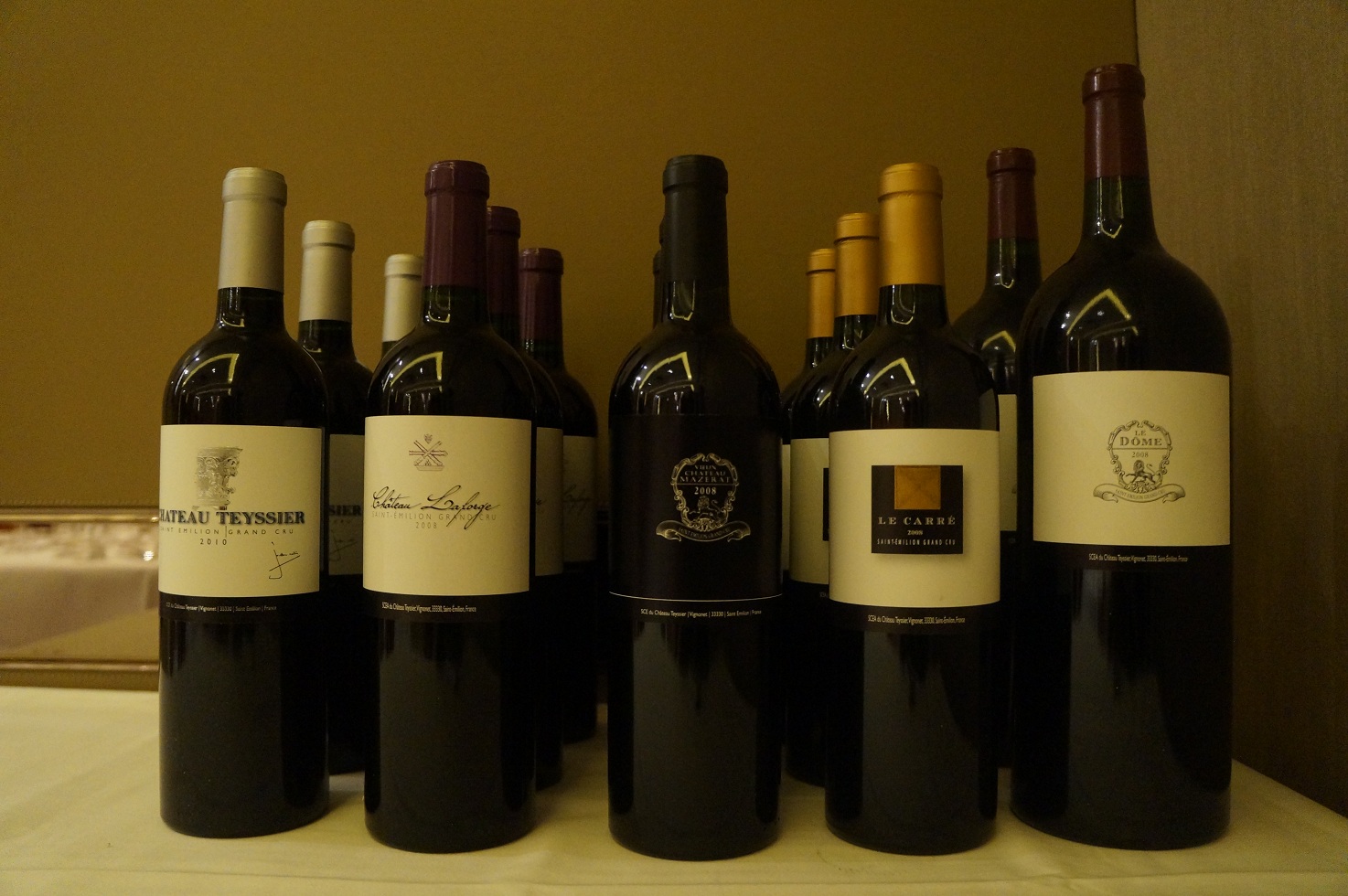 Five reds and three whites from Château Teyssier, the winery where Jonathan is working, were tasted in the dinner and paired perfectly with foods in Lawry's The Prime Rib. Château Teyssier is a Bordeaux winery from Saint-Émilion, Right Bank of Bordeaux' wine region. It is ranked as Grand cru in the Classification of Saint-Émilion wine.
In addition to its Grand vin Château Teyssier, the estate produces the "super-cuvées" Le Dôme, Vieux Château Mazerat, Les Astéries, Le Carré, and Clos Nardian as single vineyard wines and the estate wine Château Laforge as well as the generic Bordeaux appellation line Pezat.
Pezat is a Bordeaux white that is sauvignon blanc based. It is packed with rich, joyous, quite intense citrus fruit, white peaches with a hint of white flowers. As a typically sauvignon in style, it is crisp and fruity on the palate with a refreshing finish.
Clos Nardian is another dry white from the winery, made up of sauvignon blanc, semillon and muscadelle. The percentage of the grape varies according to the harvest and weather each year. The wine is of wonderfully fresh bouquet of candied pears, pink grapefruit, yellow peaches, and turns into complex stony aromas with well balanced acidity and elegant finish.
Vieux Château Mazerat, Château Teyssier, Château Laforge and Le Carré are all Saint-Emilion Grand Cru. Château Teyssier, the cuvee production, is award winning, spicy, velvety, and with ripe dark fruit characters, and with sweet and nice tannin.
Château Laforge is a five-parcel-blended wine with majority in merlot (normally over 90%). It is concentrated and opulent, full bodied, round and seductive. It is balanced and with nice tannin texture to stand out the character of merlot of the year.
Vieux Château Mazerat was the original vineyard out of which Le Dôme, the benchmark of the winemaker, was created. Vieux Château Mazerat is also next to another Premier Grand Cru, Château Angelus, resulting the soil and grapes benefit from the two great wines. The wine is a blend of merlot and cabernet franc stamped with class. It is powerful, complex and persistent, full bodied with excellent concentration of black fruit to show the terroir of vineyards.
Le Carré is another merlot-cabernet franc-blended wine but only from a single vineyard. Around 350 cases is produced every year. It is deep coloured, with opulent fruit expression. It has beautiful, complex texture and fine, long tannins. It is an excellent to express the character of a homogenous terroir of particular vineyard. It can be aged for 15-25 years for reaching the peak maturity.
Le Dôme is the benchmark estate and wine of Jonathan Maltus. It is unique in the Château due to the high portion of cabernet franc in the blend (almost 80%), and rest is old-vine merlot. This single-vineyard of three hectares is situated next to Château Angelus and represents the highest manifestation of Cabernet Franc in a wine of this level from Bordeaux. Vintage 2010 of Le Dôme is one of the four 100-points perfect wines given by Robert Parker, together with Latour, Haut Brion and Cheval Blanc. The wine is perfumed with opulent palate, full-bodied with spicy black fruits and saturated tannins. Meanwhile the finesse and delicate texture gives an elegant expression of the cabernet franc and shows the excellence in the winemaking.
Enquires: http://www.onereddot.com